Community at our heart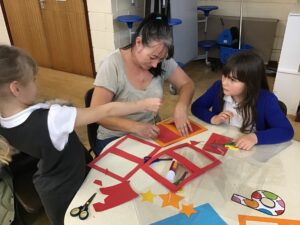 One of our key values and priorities as a school is working at the heart of our community. It is wonderful to see community groups, such as a local dance group, a local football club and male voice choir using our school field and facilities throughout the year. Our sports barn is an amazing facility, which we plan to make available for community use.
We are fortunate to have an amazing Parent Teacher Association (PTA) (see here), and strong support from our community at events, such as Bingo Nights, our Christmas Fair and our Summer Fete. The school also enjoys participating in community events, such as the Howard and Mildenhall Sale Trail and working with and supporting local community organisations, such as Howard Green Hearts.
We have key links with members of our local community such as the West Suffolk Vineyard Church, St George's Parish Church, local councillors and local secondary schools, and we also work with local residents as volunteers in school, for example, as volunteers to read with the children. We are always keen to hear from anyone who would like to get involved in school life – from contributing your financial, management or educational expertise as a school governor/member of our IEB, to sharing your gardening, engineering, or crafting skills with children at lunchtimes, or talking to pupils about different careers. If you would like to get involved in any way, please email office@howardprimary.org
Safeguarding our children is our number one priority, and any community volunteers working with children, or groups using school facilities during school hours, require a basic Disclosure and Barring Service (DBS) check. It is simple to arrange this check via the school office.