Welcome to Hedgehog Class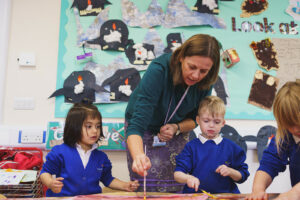 In Hedgehog Class we love to be active in our learning. Playing and exploring is a key part of our curriculum and we often do this in our large outdoor area.
Children are encouraged to be creative, think critically and make links between their ideas. Our Early Years environment provides children with a range of rich, meaningful play-based experiences and they are given the opportunity to engage in both adult led and self- initiated learning.
We have an exciting and challenging curriculum based on our observations of children which builds on their prior knowledge, interest and understanding. Significant observations of your child's achievements will be recorded in their Learning Journey book and recorded on Tapestry (on-line Learning Journey), which are both shared with parents.
Phonics is taught every day through engaging learning activities using the 'Little Wandle' phonics scheme.
Children are encouraged to develop their independent skills and an emphasis is placed on supporting all pupils to communicate effectively and build secure relationships with peers and school adults.
The curriculum in Hedgehog class is broad and balanced and covers all 7 areas of Learning and Teaching: Personal, Social and Emotional development, Communication and Language, Mathematics, Physical Development, Literacy, Understanding the World, Expressive Arts and Design.
Autumn Term
In the autumn term our topics are: 'Me and My Community', 'Once Upon a Time', 'Exploring Autumn' and 'Sparkle and Shine'. These topics include learning about our local area, learning from traditional tales and events from the past, developing our understanding of the seasons, and learning about light and colour.
Spring Term
This term, we our topics include learning about Kings and Queens, moving and growing, and we are learning about the 'Big Wide World' too! We will also be spending more time outside, nurturing growing plants and flowers.
Summer Term
In our final term of the school year, we will be learning to be active in different ways. We will also be reading about the Very Hungry Caterpillar as we think about how animals and plants can change. As the weather improves, please can you make sure that your child brings in a sunhat each day and comes to school wearing suncream. Thank you.
PE
In Hedgehogs, our Reception children will need their PE clothes in school every Friday for their PE lesson. In additional, we will be developing our physical skills by taking part in activities in our Early Years forest area and going on exploratory 'Welly Walks' in the school field and forest area at times throughout the week. Therefore, children will need to have wellies or trainers in school, which they are happy to get muddy.
A parents guide to the statutory framework for the early years foundation stage