Learning through play and playful activities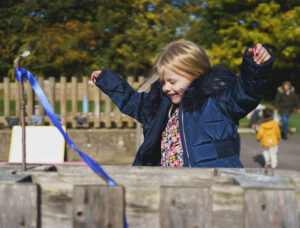 The Nursery children have their own dedicated classroom and are supported in their learning experiences by Mrs Steed and Mrs Smith under the leadership of Mrs Biggs (Early Years Leader). Every day the nursery children have dedicated learning time within the Early Years environment but also have the opportunity to use the extensive indoor and outdoor facilities and experiences the school offers all its pupils.
Children may attend the nursery for either 15 or 30 funded hours. This could be a combination of mornings, afternoons or whole days, depending on availability of spaces.
Before applying for a place at the nursery please log onto the Suffolk government website, to gain all the funding information and details on how to receive your funding 'code'.
https://www.suffolk.gov.uk/children-families-and-learning/childcare-information-and-support-for-parents-and-providers/guidance-for-parents-and-carers/funded-early-learning-for-3-and-4-year-olds/#tab4
Morning hours: 8.50am-11.50am. Children will be given a fruit snack during the morning but will need to bring their own water bottles.
Afternoon hours: 11.50am-2.50pm. Afternoon children will need to bring a water bottle and packed lunch or a school dinner can be purchased for £2.50.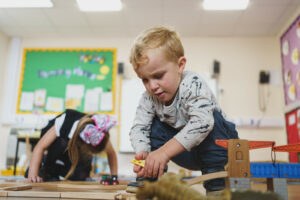 Children do not need to be toilet trained to attend the nursery but this is an important life skill for them to acquire and if your child is not toilet trained, our Early Years staff will support and work with children and families to achieve this.
Outdoor play is an important part of our Early Years curriculum and children can have the opportunity to use the outdoor space throughout the day. We advise parents to dress their children appropriately for all weathers, rain or shine. We do have wellies for children to borrow but your child may choose to bring their own wellies to nursery.
We encourage our nursery children to learn and explore in a creative manner and this may mean your child might use a variety of media including paint, gloop, mud and chalks. These can sometimes be messy and although we do provide aprons for children it is recommended that children do not wear 'best clothes' for nursery.
In the Nursery we follow the Statutory Framework for the Early Years Foundation Stage and our curriculum is designed to support children to develop the three Characteristics of Effective Teaching and Learning:
· Creating and thinking critically
· Active learning
· Playing and exploring
The learning in the nursery is based around play and playful activities. We recognise that play is a crucial part of a child's early development. Playing helps young children's brains to develop and for their language and communication skills to mature. As young children play and explore, they extend their experiences and develop a 'have a go' attitude. We have created an environment in which children are provided with a range of rich, meaningful experiences, in which they can explore, think creatively, and be actively engaged in their learning.
The nursery provides opportunities for our children to engage in both adult led and self- initiated learning and a secure and safe learning environment indoors and outdoors where children are supported by adults to explore, grow, learn, and develop important life skills.
Nursery staff deliver an exciting and challenging curriculum based on our observations of children's which builds on their prior knowledge, interests and understanding. During their time at nursery, significant observations of your child's achievements will be recorded in their Learning Journey folder and recorded on Tapestry (on-line Learning Journey), which are both shared with parents.